Oriental Rug Cleaning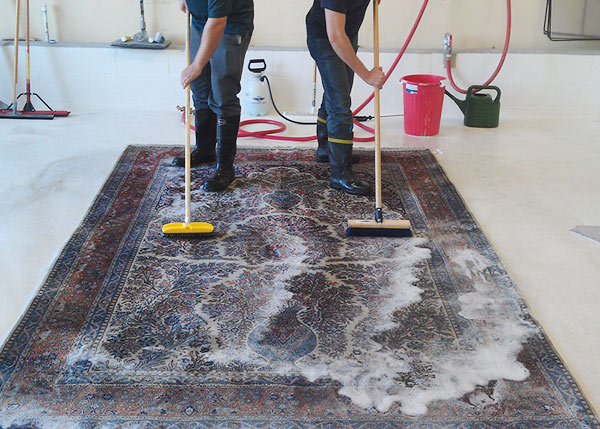 Oriental rugs are exotic handmade rugs that are knotted or woven using silk, wool or cotton. They give a feel and character to your living space. Many households contain these rugs, but they are left and never cleaned. It is, however, important to clean them as they quickly attract dirt to your household that you don't want in your home.
At Pamir Carpet Cleaning, our skilled Toronto rug cleaners offer effective and high quality service for Persian and oriental rug cleaning in Toronto, Etobicoke, Scarborough, Vaughan & Richmond Hill.
How We Do It?
Here are some of the methods that we use ourselves to clean oriental rugs. You want to clean your carpet twice every month since they pick dirt from the regular use. Flip your rug regularly so that no area side sustains more damage than the other.
It is best to hire professional cleaners such as us at Pamir Cleaning who specializes in cleaning oriental rugs in Toronto & GTA for the best and most efficient washing process. They have specialized equipment and products to ensure thorough cleaning while being gentle with the natural fibers of your rugs. Home cleaning may harm your oriental rug, and will never thoroughly clean it as needed.
Good oriental rugs have sentimental value and may be passed down from generation to generation. Professional care can extend the life, quality and beauty of your carpet.
Steps Involved In Rug Cleaning
Oriental rugs are tightly wound making it easier to trap dirt, dander, and dust at the top. For small rugs, you can regularly clean them in your utility room or garage, driveway or pavement on a sunny day. To get the best results you can use the following easy steps:
Vacuum both sides well to remove all loose dirt, dust and grime from the rug. Beat out any remaining dirt or dust.
Shampoo the rug with cool water and mild liquid soap or rug shampoo. Hot water or steam will loosen dirt but easily but will damage the fibers in your carpet. Wet the nap thoroughly with the soapy water.
Use a soft brush to work it through the fringes of your rug as if you are brushing hair. Brush the pile firmly with linear motions in the direction of the nap: don't scrub too vigorously. Repeat until thoroughly clean.
Rinse thoroughly with running water to get rid of dirt and detergent.
Squeeze out excess water or use a rubber window squeegee. Squeegee the pile repeatedly in the direction of the nap until no more water is forced out.
Lay flat to dry. Do not hang Oriental rug when it's wet to avoid color runs.
When the naps feel dry, turn it over to dry the other side that is probably still damp. Use a floor fan to speed the drying of the fringes and prevent mildew.
Call Us To Schedule Emergency Flood Cleaning!
Contact Us